SPOILER ALERT: Details about the WandaVision Episode 1 and 2 plot will be discussed below
There's been a lot riding on the newly released WandVision (WV). Not only is it Marvel's first series and show on streaming platform Disney+ but it is the first Marvel product since Spiderman: Far From Home which was released back in July 2019 (when the world was good). Nevertheless it has delivered – with stellar performances from Elizabeth Olsen, Paul Bettany and Kathryn Hahn in its first two episodes.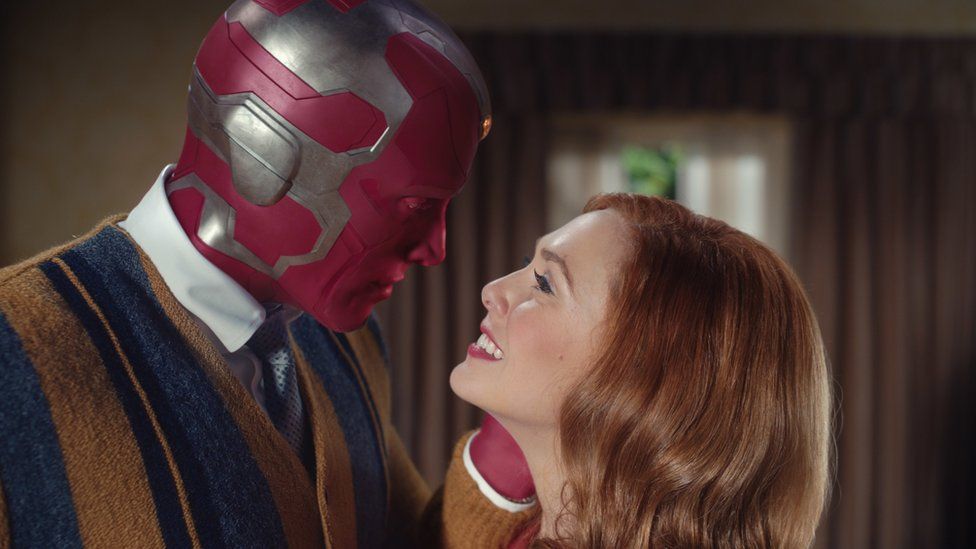 The show begins with Wanda (Olsen) and Vision (Bettany) living their best lives in the quiet suburban neighbourhood of Westview, complete with neighbourhood planning committee and nosy neighbour Agnes (Hahn). We follow the couple as they try their best to 'fit in' and live a normal life, which you can imagine is a challenge considering Vision is an android and Wanda a shapeshifting super-witch. What is interesting about WV is that it is unlike anything Marvel have ever done before. The first two episodes are odes to sitcoms (Dick Van Dyke Show, Seinfeld to name a few), with bits of slapstick comedy, audience laughter and even black and white colour grading. Marvel are used to pumping out thrillers and blockbuster movies filled with action and drama but WV strips things back whilst still leaving room for intrigue and questions.
Now it's obvious that all is not as it seems in this odd world that Wanda and Vision are in, and it is yet to be explained as to why Vision is still alive after being killed by Mad Titan Thanos in Avengers: Infinity War. But what is clear is that there is something or someone from the outside trying to make contact with Wanda, whether it be through noises on a radio or toy helicopters. This is where the show becomes more dramatic in places, as the little things such as colour and camera effects (combined with the acting of Olsen) intensifies Wanda's panic in her moments of sudden realisation.
There's also plenty of easter eggs dropped in throughout the episodes, from a toaster made by stark industries to a Hydra name drop. What's great about these easter eggs is that they are only little glimmers that remind the audience about the shows position in the wider Marvel Cinematic Universe rather than solely providing the foundation for the show.
Bettany and Olsen's performances are exceptional, with them capturing both trates of the era into their performance whilst remaining comedic and displaying the deep chemistry and love between their characters. Their comedic timing is perfect for this show and you instantly feel like you already know more about these characters and their relationship (which arguably is overlooked in the wider Marvel world). Kathryn Hahn also adds a lot to the episodes, proving as ever that she fits perfectly in comedy – although I feel there could be more to her character than just the over enthusiastic neighbour. We also meet an neighbourhood member Geraldine (Teyonah Parris), who we already know from pre-released photos is actually an older Monica Rambeau from Captain Marvel working for the mysterious SWORD organisation – I expect to see her role develop as the show progresses.
WandaVision's first episodes have been able to effectively establish a narrative with developed characters that we know and love in an unfamiliar environment. It has enough intrigue and mystery to keep viewers hooked with questions surrounding where they really are and why they are there. The comedic sitcom tropes are a welcome addition and the underlying fear and confusion of Wanda's character will prove as a driving force for the rest of this exciting series. It was fascinating, unique and comedic and I can't wait to find out what's actually going on.
Watch the trailer below and watch the first two episodes now on Disney+.