Ryan Murphy's American Horror Story (AHS) spin-off is a real mixed bag, with some standout performances but an all too heavy reliance on the main series.
When American Horror Stories was announced, fans were excited to see a whole other side to the AHS franchise. The promised anthological format and contained episodes would allow for concise storytelling, something which AHS lacks at times.
The series saw AHS regulars John Caroll Lynch, Billie Lourd, Cody Fern, Naomi Grossman, Dylan McDermott and Jamie Brewer return with a mixture of new and familiar characters. Lourd and Lynch in particular provided standout performances which significantly brought up my rating of this show.
But it didn't quite live up to expectations (at least for the most part).
Return to Murder House… again… and again… and again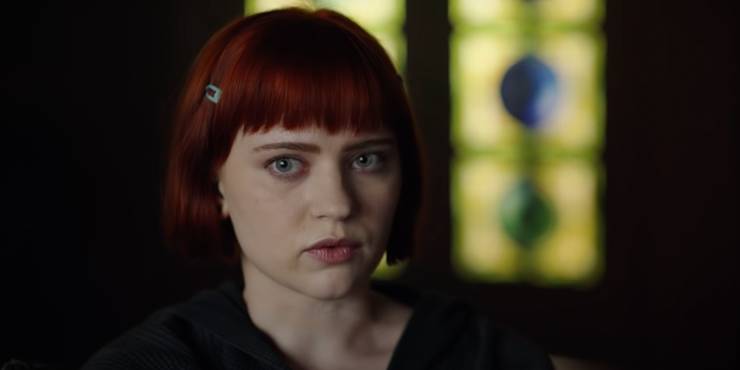 As much as I love AHS: Murder House, I feel like this series relied too much upon it. Every single time this house was shown (which was 3 episodes out of 7 in the supposed 'anthology' AHStories) I wanted to see the likes of Jessica Lange, Frances Conroy, Evan Peters and Taissa Farmiga appear. That said, I was happy with the way the house was left in AHS: Apocalypse and I personally think it would've been better to just leave the damn house alone.
Rubber Woman Part 1 was interesting and although the parallels were nice to see it did just feel like a worse rehash of the original series of AHS. Rubber Woman Part 2 dragged this story on far beyond the boundaries of what needed to be told, and I would have been much happier had it just been one episode long. Kaia Gerber was heavily criticised in Part 2 however I should note that was nice to see her provide us with a much more solid performance in the Game Over episode.
I did like how the final episode attempted to be 'meta' by tricking viewers into believing they were watching real life when the climax pulled the rug and revealed the world was a feature of a AHS video game. However, the storyline became overly convoluted, leaving audiences wondering whether the Murder House did eventually burn down or whether it was all fiction. My issue was it just didn't add anything to the story, becoming yet another Murder House ep.
'The Naughty List'
Personally this was one of my least favourite episodes. How could such a perfect theme be utterly wasted in an attempt to relate to influencer culture? The story fell flat with unlikeable characters and a strange storyline. My biggest pet peeve was how Danny Trejo was under utilised as a killer Santa; I would have loved to learn about his life and the motives behind his actions.
I can however appreciate the glimmers of humour in the episode ("no-homo") and the Christmas imagery throughout was pleasing to the eye. This episode should have been about the Santa, not the influencers. AHS has already tackled with a murderous Santa before in AHS: Asylum, which was perfectly done. It was one of those episodes that just irritated me as a viewer as I could see the potential slowly fade away.
'Drive-In', 'Ba'al', and 'Feral'
For me, these three episodes displayed exactly what I wanted from American Horror Stories. Drive-In featured brilliant performances from John Caroll Lynch and Madison Bailey and revolved around a forbidden horror film with disastrous consequences. The episode was sharp, intriguing and featured a satisfying ending fit with a perfectly delivered monologue from Lynch.
Ba'al was a return to form after wasted episode 'The Naughty List'. Ba'al featured a dark story about a desperate woman who wanted a child, portrayed brilliantly by Billie Lourd. The episode featured all the twists and turns you would expect from quality AHS and a perfect example of what this show should have been like for every episode. Potentially my favourite episode of the series.
Feral was a concept which I actually think could be fleshed out for a full series of AHS, with the episode toning down the camp and increasing the horror, gore and darkness. The storyline was interesting and – whilst slightly predictable – allowed for both Cody Fern and Aaron Tveit to shine. Once again the episode felt whole and the cinematography and title sequence provided great viewing.
Final Thoughts
American Horror Stories, like AHS, had highs and lows. Some episodes delivered exactly what was promised, with AHS alums and new cast members showcasing their talent in intriguing storylines. Other episodes felt either overdone (Murder House) or were just a waste of potential (The Naughty List). It is a shame that the promised anthological format didn't come to fruition as I genuinely believe this series shines when tackling and testing new formats, themes and casts. I'm hopeful for what's next.
The good thing is we have American Horror Story: Double Feature coming in a few days, and if the trailer, theme and cast are anything to go by then I'd say it could be one of the best seasons yet. Onwards and upwards.
By Alex O'Leary